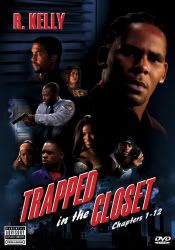 The net is expected to announce at its TCA session this weekend that it will air the original 12 episodes of the series, which became a viral hit on the Internet after radio stations began playing the audio version in 2005. The entire 22-episode run will also stream on IFC.com.
Series, which Kelly wrote and toplines, centers on the romantic and other trials of a character named Sylvester. "Trapped" is an early entry in a genre known as hip-hopera -- a rock opera with hip-hop themes.
Without ever airing on a traditional channel, it became a pop-culture phenomenon, with spoofs on shows including "South Park."
Kelly said IFC made sense as a platform for the property, which may in fact be more of a classic serial than a movie, because he's "always thought of 'Trapped' as an independent film."
Series is part of what IFC general manager Evan Shapiro said is the net's transition away from showing only independent film. "What we want to do is go from an independent film channel to one that is the voice of independent culture," he said.