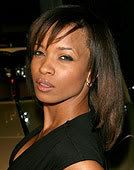 "On the first date, he gave me $10,000," Karinne Steffans told us yesterday. The infamous "Video Vixen" said she had a relationship with O'Neal after he became engaged to his soon-to-be-ex-wife, Shaunie.
"Over four months, [he spent] more than $40,000 on me, as far as I can remember."
In "Confessions of a Video Vixen," the video dancer dished on her romances with Shaq and other celebs, including Jay-Z, Ja Rule, Ice-T, Bobby Brown and Usher.
Which makes it awkward when she runs into the wives — like she did with Mrs. O'Neal in July.
"Just recently at the ESPY awards," she chuckled, "we both had the same hairstyle and everything."