Due to scheduling conflicts (White Castle be buggin' yo) Young B won't have the opportunity to go to her high school's spring formal. Instead of allowing the dress her Mom copped her from Rainbow go to waste until the BET Awards in June, she decided to get it a twirl now. Her accessories from Claire's are fit for a teen queen, hence the tiara. You gotta coordinate!
Rap artist Dolla almost didn't show up to the show. After receiving a text message from his manager ('cause we all know weekend minutes
aren't free if you have a pre-paid cell) he left his cousin's Big Doonkie's welcome home cook-out and came to the ceremony. Still reeking of cognac of course.

Unlike most people who attended the show Irene "Mama" Stokes planned her outfit out months ahead. Immediately after receiving the invite she logged on to Fingerhut.com and purchased this saucy little number. And it's only going to cost her $5.99 over a 16 month period. Top that!

Gospel artist Ricky Dillard also decided to take advantage of a good sale. He hit up Jazze Pha's ATL-based boutique, Knitch, and instructed a sales woman to make him "so fresh all the single gals are gonna wanna wipe me down when they see me!" The lady used her employee discount during the check out and it's been on ever since. The two are now dating and . . .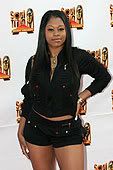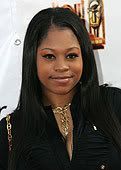 . . . he even gave her his extra ticket. The Lord is going to shower him with blessings. Hallelujah holla back.