Jamie Foxx In Essence


In the August 2006 issue of Essence, Jamie Foxx spills the beans on rumors, his plans for the future, and why he loves black women so much. Here is a snippet from the article where he talks about his daughter.


In his hotel room, Foxx picks up where he left off, quietly ruminating on the fleeting nature of fame, George Bush's geopolitical maneuverings, and telling me about an actress he used to date ("It was around Oscar time and she said, 'What about my career?' "). Finally he touches on a topic that makes him light up. "You see this," he says bringing me over to his laptop, which has a tiny camera perched on its lid. "My daughter and I video chat like crazy. She's so cool." Foxx gushes about 12-year-old Corrine, her dance recitals, her softball games, her size 9-already feet and the way she'll interrupt a get-together he's throwing for, say, Will Smith, to ask how long he's going to be, because enough already. That, he says, "feels real good."

So here's the real surprise about Jamie Foxx: Behind the party man, the award winner, the jokester, jester and genius is a soul kinder and gentler than most you'll find in Hollywood. He's a man whose real joy seems to come from holding his family close.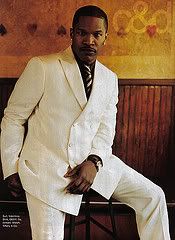 Common, Rockmon Dunbar, Dwele, Michael Ealy and Hill Harper are among some of the 50 hot pieces of chocolate. Ah hem,

this one

is mine ladies. I had to give Darren is walking papers last week. Besides, you know I like to upgrade my men every three-five months. You can check all of the men out over at
Essence.com
.
CONTACT INFORMATION
Use don't abuse (ie. adding me to your site's mailing list). And for the love of God please stop sending mp3 files of your music. I am not Clive Davis and to be frank I probably don't want to hear the shit anyway. You should also know that I take my slow, precious time responding to email. And sometimes I don't respond at all. Fresh.crunkjuice@gmail.com
Fresh@myspace.com
LEAVE SOME $$$ ON THE NIGHT STAND
GET POSTS IN YOUR INBOX
Free Image and Video Hosting

RECENT ENTRIES