Shits & Giggles: You Sent It!
I swear some of you are the funniest, sincere, and craziest people I've ever come in contact with. A lot of times I get so much email in my inbox that I can't get to it all that same day but I do read everything ya'll send. Keep it coming! Shouts out to Yllona and

Prodigal Sun

for listening to me whine and complain about that business situation. I've been on pause for the last couple of days but my ass is about to press play! Trust. Alright, on with it.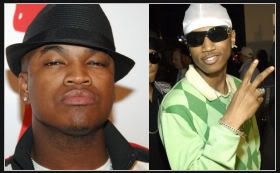 Are Ne-Yo And Trey Songz Beefing?


One of my overseas connects tipped me to a beef that's brewing. We all know Ne-Yo is a talented songwriter that most recently became a performer. Apparently, he's not a fan of one of his former clients and a fellow new jack. Here is what Ne-Yo said to my friend from across the pond. "Besides Marques Houston, who I just can't stand, Trey Songz pissed me off! They did some performance together and at the end he was charging his fans for autographs. That's some f***ed up shit right there," Ne-Yo declared! I like Ne-Yo and Trey, but I have to say, I met Marques Houston once and his breath was kicking like a Bruce Lee flick! (

AHH Rumors

) Thanks Toya!


Guess Who Butta Ran Into?!


Sometimes you just never know who you are

going to run into

when you head out shopping.

Butta,

I'm jealous. With the release of an album on the way I know

L'Creme

is going to sell out.


More Celebrity Twins


CONTACT INFORMATION
Use don't abuse (ie. adding me to your site's mailing list). And for the love of God please stop sending mp3 files of your music. I am not Clive Davis and to be frank I probably don't want to hear the shit anyway. You should also know that I take my slow, precious time responding to email. And sometimes I don't respond at all. Fresh.crunkjuice@gmail.com
Fresh@myspace.com
LEAVE SOME $$$ ON THE NIGHT STAND
GET POSTS IN YOUR INBOX
Free Image and Video Hosting

RECENT ENTRIES