Bill Maher Is A Great Dick Dealer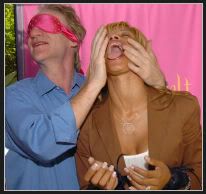 Bill's loving is apparently so good Karrine doesn't want another man in her life.
Vixen's 'Confessions': Maher a 'Super' lover Karrine Steffans says she's gotten it on with Usher, Diddy, Vin Diesel, Shaquille O'Neal and Ja Rule, among other famous men. But when it comes to satisfying her as a woman, no one compares with comic Bill Maher.


"It took a lot to impress me," the best-selling author of "Confessions of a Super Vixen" tells us. "Bill was my perfect match. [Love-making] was explosive and amazing. I've never been with someone who couldn't keep his hands off me."And it wasn't just the passion. "He made me a better person. I never expected fidelity and commitment from Bill Maher, but we saw each other every day, and he reached out to include my son."As much as she was learning from her 50-year-old "daddy," Steffans, 27, says she began to feel "like I was just becoming his girlfriend. I needed to explore." (

continue reading

)


Our friend Karrine is also pissed about the
DVD of her and Mr. Marcus being released.
"That was six years ago, when I was a coke whore. I was a single mom. I needed money. Vivid makes it look like it's a new tape. They're using my current picture and a book title without my permission. If anyone profits from this film, I want my cut, which I will donate to charity," said Karrine. Now we all know that charity starts at home!
She should be upset that her hairstylist fucked her hair game up on Oprah. Let's focus on the real issue here Superhead.
CONTACT INFORMATION
Use don't abuse (ie. adding me to your site's mailing list). And for the love of God please stop sending mp3 files of your music. I am not Clive Davis and to be frank I probably don't want to hear the shit anyway. You should also know that I take my slow, precious time responding to email. And sometimes I don't respond at all. Fresh.crunkjuice@gmail.com
Fresh@myspace.com
LEAVE SOME $$$ ON THE NIGHT STAND
GET POSTS IN YOUR INBOX
Free Image and Video Hosting

RECENT ENTRIES