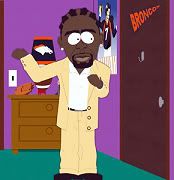 After the resignation of Kelly's longtime publicist, Regina Daniels, her husband, music retailer George Daniels, speaks out about Kells' inappropriate relationship with their daughter.
"He crossed the line with my daughter," Daniels told local Los Angeles radio station KJLH. "It didn't get to the extreme of that [sex tape] video or else I wouldn't be here, if you know what I'm talking about."
In November, Regina Daniels released a press release indicating that Kelly "crossed a line that forever altered the scope of our relationship." Now, George Daniels tells KJLH that Kells took advantage of his then 21-year-old daughter.
"When you're 21, and if you've been there already like I've been many years ago, you're still 15 to 16 mentally," Daniels added. "You're vulnerable."
Daniels and his wife ultimately got the truth from their daughter after much hearsay and speculation, but when Daniels questioned Kelly on the issue, he got a different story.
"He denied it," Daniels said. "He lied to me to my face."
Despite the private nature of the issue, Daniels said he has decided to speak out for the sake of other families.
"The reason that I'm talking abut this, it's not just for me, it's not for my wife, it's not for my daughter, but it's for the public," Daniels said. "It's for other fathers and mothers, because it doesn't have to be a superstar, it could be the dude on the corner. There are guys who sit around and give your child a couple of bucks to go to school and then wait until they get a little older, then they set that trap. See, so I'm doing this really for everyone." [
continue reading
]