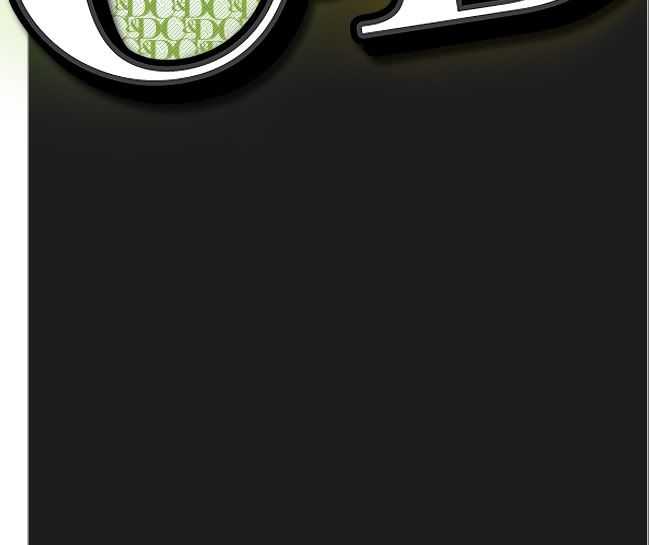 I'm Just Saying . . .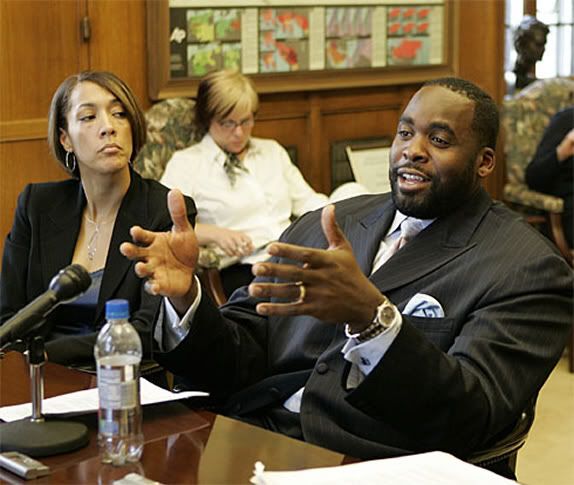 Detroit Mayor Kwame Kilpatrick exchanged romantic text messages with a top aide, contradicting their denials in court that they had romantic ties, a newspaper reported.

The county prosecutor's office declined to comment on the legal implications of the report, posted Wednesday on the Detroit Free Press' Web site. A conviction of lying under oath can bring up to 15 years' imprisonment.

Kilpatrick and Christine Beatty testified last summer in a police whistle-blower lawsuit and denied any sexual or romantic ties in 2002 and 2003. But the Free Press said it examined about 14,000 text messages on Beatty's city-issued pager [

My people, my people. When will we learn? - - Fresh

] from those years and found many examples of such ties. [

SOURCE

]
This would all make for a lovely Tyler Perry stage play.

Come on people! You knew sooner or later you we're going to get caught. I'm personally pissed that the text messages weren't more interesting. No "girl, I'm going to put that pussy in a full nelson tonight" or anything! Check out excerpts under the cut.


9/12/02, 10:38 p.m., during trip to Washington, D.C.
Christine Beatty: Can I just come and lay down in your room until you get back?
Kwame Kilpatrick: Yes.
9/13/02, 9:02 a.m. (the next morning)
KK: They were right outside the door. They [the mayor's bodyguards] had to have heard everything...
CB: So we are officially busted! LOL
KK: LOL LOL! Damn that. Never busted. Busted is what you see! LOL. ...
CB: LOL, LOL. Damn, so they have to walk in before you conceed busted! LOL.
KK: Hell yeah. Walk in.
9/15/02, 3:38 a.m. (still in Washington)
CB: I'm on my way to your room now. But by the time you get there I'll be sleep and it will be 5am!
KK: I got something for you.
CB: LOL. Is that so? I'm in your room. Don't let Mike check it [an apparent reference to Mike Martin, a bodyguard who often traveled with the mayor]. Are you in route or still hanging? What do you have for me?
9/24/2002, 6:56 p.m.
CB: This is one of those little things I had to tell you. Last night when I was laying on your shoulder in the car and you held my face and sang whatever song it was, that felt so good. It was just one of those little moments when you just made me fall some more.
9/28/2002, 11:53 p.m.
CB: Where are you now?
KK: At home waiting for all EP [executive protection unit officers] to leave. Where are you?
CB: At the residence inn in Madison hgts.
KK: What rm?
CB: ...I'm in room 311 in bldg 3 in the back.
10/7/2002, 11:20 p.m.
CB: OK, I'm feeling like I want another night like the most recent Saturday at the Residence Inn! You made me feel so damn good that night. As you can see I can't let it go! ...
KK: I feel that we can do that in WV [West Virginia] + just relax together. I need you soooo bad. I want to wake up in the morning and you are there. Make it happen. Love ya.
10/8/2002, 10:18 a.m.
KK: I'm fine. Need a break. I want to get out of town w/you. Check on resorts outside of Houston.
10/16/02, 11:48 p.m.
KK: I've been dreaming all day about having you all to myself for 3 days...relaxing, laughing, talking, sleeping and making love.
10/31/2002, 5:28 p.m.
KK: I'll feel better once I'm holding you.
CB: You didn't say whether or not we are trying for some time tonight.
KK: Definitely. I'm getting a room. Damn that!
CB: LOL. Okie dokie.
(Kilpatrick later tells her to pick up room key at Marriott)
11/1/2002, 12:28 a.m.
KK: 6301 or 6302?
CB: Definitely 6302! 6301 has two double beds.
4/8/2003, 8:55 p.m.
KK: I'm at Laker game. The security doesn't believe I'm mayor. Mike is pulling out all kind of shirt to prove it.
CB: And, did you miss me, sexually?
KK: Hell yeah! You couldn't tell. I want some more. Don't sleep!
5/5/2003, midnight
KK: That's the first time that I couldn't fully seduce you. My game is off. LOL! Thanx for the conversation and the QT! Love you!
CB: LOL! Your game is way on baby! "you had me at hello!" Jerry McGuire 2000. LOL. I just didn't want to get caught.


Labels: Come On People, Sucks To Be You
CONTACT INFORMATION
Use don't abuse (ie. adding me to your site's mailing list). And for the love of God please stop sending mp3 files of your music. I am not Clive Davis and to be frank I probably don't want to hear the shit anyway. You should also know that I take my slow, precious time responding to email. And sometimes I don't respond at all. Fresh.crunkjuice@gmail.com
Fresh@myspace.com
LEAVE SOME $$$ ON THE NIGHT STAND
GET POSTS IN YOUR INBOX
Free Image and Video Hosting

RECENT ENTRIES