Something In The Formaldehyde Ain't Clean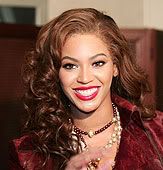 Much like the family crackhead I have learned to love and accept Beyaki's up and downs but I am having a wee bit of a problem overlooking this tragedy right here.

Riddle me this Batman, what's up with the excessive new growth hair line? Is that supposed to make the lace front appear more realistic? I vote no. It looks like someone strategically plucked Dog the Bounty Hunter's pubes and supermanned that shit on a mesh cap. CREOLE!


I pray to Yahweh that her wig is a only a prototype and valuable dollars are not being wasted on creating a line of that mess. But above this I blame the head supervisor in the wig crypt for approving. You overcooking my grits, Kizzy.
Labels: Tales From The Wig Crypt
CONTACT INFORMATION
Use don't abuse (ie. adding me to your site's mailing list). And for the love of God please stop sending mp3 files of your music. I am not Clive Davis and to be frank I probably don't want to hear the shit anyway. You should also know that I take my slow, precious time responding to email. And sometimes I don't respond at all. Fresh.crunkjuice@gmail.com
Fresh@myspace.com
LEAVE SOME $$$ ON THE NIGHT STAND
GET POSTS IN YOUR INBOX
Free Image and Video Hosting

RECENT ENTRIES