LaMichael Finds Romance In Lizzie McGuire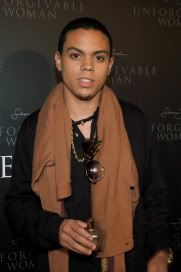 Evan Ross has been cast opposite former Disney Channel superstar-turned-pop singer Hilary Duff in the film "Greta," an interracial teen dramedy for Whitewater Films.
Duff plays the title role of a waitress who falls in love with her a cook at the restaurant they work. After they take their romance to the next level, Greta confronts the concern of her grandparents (Ellen Burstyn, Michael Murphy) about her new boo's criminal past.
Director Nancy Bardawil is currently shooting "Greta" in New Jersey.
LaMike has also finished shooting "Black Water Transit" opposite Laurence Fishburne, as well as "Brooklyn to Manhattan," "Life is Hot in Cracktown" and "Linewatch."
Hilary Duff has a crazy fan base so this movie may be a good crossover look for our boy. She better not cut my baby with those big ass horse teeth. That's probably why Joe Madden quit that bitch and knocked up Nicole Richie.