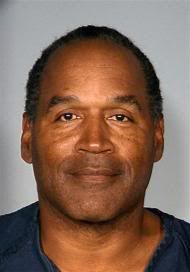 An apparent audiotape of
O.J. Simpson's standoff
with men he accused of stealing his memorabilia begins with the ex-NFL star demanding, "Don't let nobody out this room. ... Think you can steal my (expletive) and sell it?"
Simpson was arrested Sunday and booked at a county jail on charges connected with what police described as a robbery at a Las Vegas hotel. A judge ordered Simpson be held without bail, Sgt. John Loretto said. A court date was set for Thursday.
Simpson has said Thomas Riccio called him several weeks ago to say some collectors were selling some of his items. Riccio set up a meeting with collectors under the guise that he had a private collector interested in buying Simpson's items.
Riccio told the site he believed Simpson was planning to confront Alfred Beardsley, who was allegedly planning to auction off Simpson memorabilia. The site said the objects of Simpson anger were Beardsley and another collector, Bruce Fromong.
Simpson he was accompanied by men he met at a wedding cocktail party, and they took the collectibles. Fromong said Simpson was the last of the men to enter the hotel room.
"O.J. was the last person I was expecting to see and when I saw him I was just thinking, 'O.J., how can you be this stupid?'" Fromong told CBS's "The Early Show."