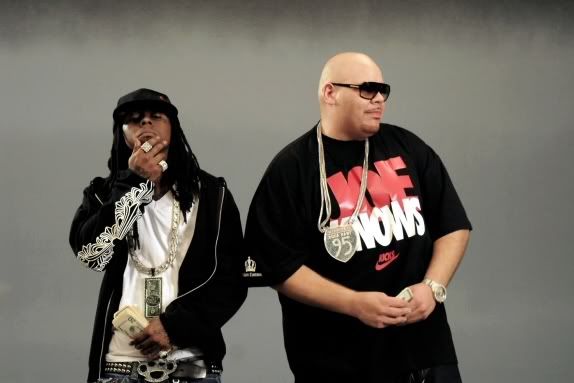 Fat Joe and Lil' Wayne made
ridunkulous
diva-type demands at the Ozone Awards last week.
Page Six
spies report "Fat Joe commanded that the red carpet be shut down for him [
The jokes will undoubtedly write themselves. - - Fresh
] while he and his 30-strong entourage walked down it, and Lil' Wayne was adamant about getting hot girls to personally fan him as he walked down the red carpet - but he didn't want to take any pictures."
These guys!
The only that Fat Joe should he commanding is a two
month
year supply of
Nutrisystem
meals. Lil' Wang needs to realize that nobody has time to round up random chicks and equip them with funeral homes fans just so he can cool himself off. I thought that was what Baby's sweet,wet kisses were for. It is hotter than Freeway's matted down pubic hair out this bitch so if you are dumb enough to wear a track jacket in this heat you deserve to feel steam escaping from your collar.
QUESTION OF THE DAY: WHAT THINGS SHOULD THEY HAVE ASKED FOR INSTEAD?
CONTACT INFORMATION
Use don't abuse (ie. adding me to your site's mailing list). And for the love of God please stop sending mp3 files of your music. I am not Clive Davis and to be frank I probably don't want to hear the shit anyway. You should also know that I take my slow, precious time responding to email. And sometimes I don't respond at all. Fresh.crunkjuice@gmail.com
Fresh@myspace.com
LEAVE SOME $$$ ON THE NIGHT STAND
GET POSTS IN YOUR INBOX
Free Image and Video Hosting

RECENT ENTRIES