Kelly Rowland Collapses During Performance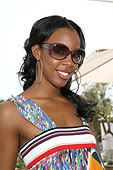 Kizzy Rowland
collapsed on stage
from dehydration during a show in Lagos, Nigeria. She was taken to a local hospital where she was treated and released. Her rep Yvette Noel-Schure reports that Kelly is back on her feet and in good condition, adding that she will return to the States to continue promotion for the album. "She was taken to an undisclosed local hospital for a check-up and is in good condition at present," she said.
The poor child has run herself ragged trying to promote her album and work the graveyard shift at the crypt. You've got to learn to take care of yourself, Kizzy! If you don't feel like ventilating a lace front and would rather take a break, do it! You have seniority over Solange anyway.
Seriously, stay hydrated folks. This heat is not a game.
CONTACT INFORMATION
Use don't abuse (ie. adding me to your site's mailing list). And for the love of God please stop sending mp3 files of your music. I am not Clive Davis and to be frank I probably don't want to hear the shit anyway. You should also know that I take my slow, precious time responding to email. And sometimes I don't respond at all. Fresh.crunkjuice@gmail.com
Fresh@myspace.com
LEAVE SOME $$$ ON THE NIGHT STAND
GET POSTS IN YOUR INBOX
Free Image and Video Hosting

RECENT ENTRIES