Your Two Cents Required: Paris Is Free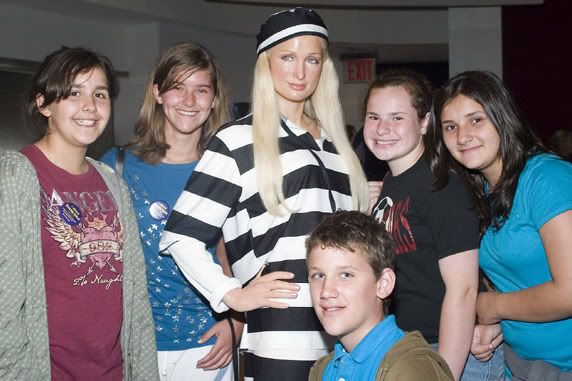 We interrupt this Black entertainment site to bring you some not-so-breaking news regarding Paris Hilton. The bitch is
free
after spending just five days in the pokey.
After extensive consultation with medical personnel it was decided that Parasite would be fitted for an ankle bracelet and reassigned to house arrest at her West Hollywood for the 40 days after which she will have "fulfilled her debt to society."
She was released from a Los Angeles County jail early this morning because of an unspecified medical problem. Read: Her herpes flared up.
Don King called
in to the TMZ offices this morning showering the heiress with praises saying that she is "what America is all about."
Negro please.
CONTACT INFORMATION
Use don't abuse (ie. adding me to your site's mailing list). And for the love of God please stop sending mp3 files of your music. I am not Clive Davis and to be frank I probably don't want to hear the shit anyway. You should also know that I take my slow, precious time responding to email. And sometimes I don't respond at all. Fresh.crunkjuice@gmail.com
Fresh@myspace.com
LEAVE SOME $$$ ON THE NIGHT STAND
GET POSTS IN YOUR INBOX
Free Image and Video Hosting

RECENT ENTRIES