Don't Leave Your Jesus Juice Unattended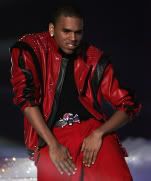 Teen heartthrob Chris Brown was pleasantly surprised when he received a phone call from Michael Jackson on his birthday. During the conversation
MJ
revealed that the Bow Wow-assisted "Shorty Like Mine" was one his favorite songs.
The jokes continue to write themselves.
"He called me for my birthday, and I told him we should do a song," Brown said. "He was up for it.

"Man, it was crazy," Brown continued. "He actually spoke to me like a regular person, and he was like, 'I like your music.' He said his favorite song was 'Shorty Like Mine' that me and Bow Wow did. I appreciated talking to him." (source)

CBeezie
, protect what is yours my brother. It's quite evident now that you are of legal age that Michael is trying to get to you and that monkey. And I'm not talking about Bubbles. He probably peeped those fake
SideKick
pictures and liked what he saw.
If you do venture over to the Gloved One's residence make sure you don't drink anything. If he slips a
roofie
in your Jesus Juice it's lights out.
CONTACT INFORMATION
Use don't abuse (ie. adding me to your site's mailing list). And for the love of God please stop sending mp3 files of your music. I am not Clive Davis and to be frank I probably don't want to hear the shit anyway. You should also know that I take my slow, precious time responding to email. And sometimes I don't respond at all. Fresh.crunkjuice@gmail.com
Fresh@myspace.com
LEAVE SOME $$$ ON THE NIGHT STAND
GET POSTS IN YOUR INBOX
Free Image and Video Hosting

RECENT ENTRIES