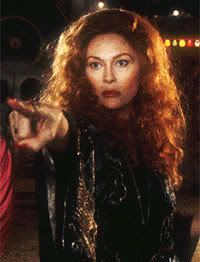 Hi Fresh!
Okay, so it's not an image, rather a link to an image, but I just HAD to share it with you.
I visit your site frequently and sometimes I post under "Madame Zenobia" or "tbrown". Anyhoo, I watched Supergirlon last night because I was feeling all nostalgic for some 80s movies. FAYE DUNAWAY in this film stars as a witch who lives in a funhouse that appears to be and could easily be mistaken for Tina Knowles' wig crypt. LOL. Here's 'one' image I found.
Throughout the movie, Faye's style of dress, makeup and wig reminded me so much of Tina Knowles. I will try to locate other images to put the two side by side, but the resemblance between a then-Faye and a now-Tina are so striking and simply must be made fun of. I'm merely passing the idea along to you...if I find the perfect images, I'll send them. But I'd love for you to use them or this idea as I think many will identify with it and find it as funny as I did.
I also post on IMDB.com. I went there today looking for an image of Faye from this movie and saw on their message board where another person mentioned the likeness of the two women. With the character of "Selena" being a witch and living in a crypt, I just had to laugh at the parallels.