Publicity Whore, Much?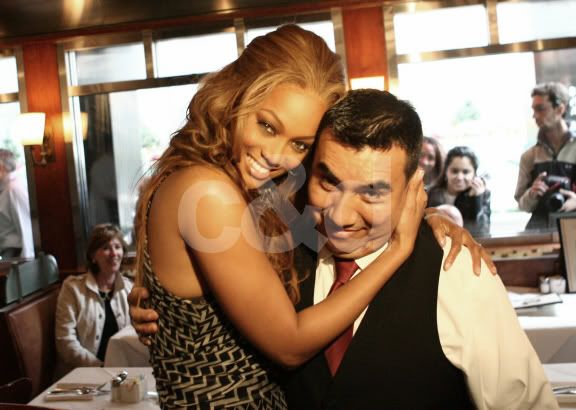 Ty Ty Baby was all smiles when returned to the Brooklyn Dinner earlier today to pay her an outstanding lunch tab. She who was accused of walking out yesterday, claiming that Russell Simmons had said that he had picked up the check and that it was all taken care of.
For that reason she thought it was ok to leave the restaurant, but little did she know they both had walking out without paying at all. Thursday afternoon Tyra called for a photo-op and invited in the media to watch her re-pay the bill and leave a $100 tip to her waiter and gave him a hug.
Due to the whole Don Imus controversy I've been a little reluctant (not really but it sounds nice) in calling one of my fellow African Queens a derogatory name. It is with tremendous pleasure I say the following:
HOE SIT DOWN.
Labels: Oh Tyra
CONTACT INFORMATION
Use don't abuse (ie. adding me to your site's mailing list). And for the love of God please stop sending mp3 files of your music. I am not Clive Davis and to be frank I probably don't want to hear the shit anyway. You should also know that I take my slow, precious time responding to email. And sometimes I don't respond at all. Fresh.crunkjuice@gmail.com
Fresh@myspace.com
LEAVE SOME $$$ ON THE NIGHT STAND
GET POSTS IN YOUR INBOX
Free Image and Video Hosting

RECENT ENTRIES