There is a logical explanation for how I recognized
this little person
from a Bang Bus porno (the picture link is safe for work) but I don't think I want to share. If you've been reading this blog for more than three months your perception of me is already tainted enough.
Boy looka here. If Oprah were a midget . . . you figure the rest out.
BET Chairman and CEO Debra Lee, along with President of Entertainment, Reginald Hudlin, announced the slate of 16 new original shows to media outlets at New York's Manhattan Center Studios on Wednesday.
New shows include BET's first original sitcom, "Somebodies," adapted from the indie movie of the same name that preemed at the 2006 Sundance Film Festival and Orlando Jones' animated sketch comedy series "Bufu."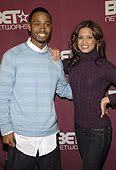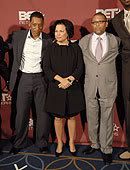 Terrance and Rocsi; Toccara, Touree and Danella;
Solange's real daddy
Orlando Jones, Debra Lee, and Reggie Hudlin; LLoyd (who should consider always dressing
this way
)