Jamie Foxx @ The Playboy Club VIP Grand Opening In Las Vegas
Every since Angel.La over at Concrete Loop mentioned Jamie Foxx's magical hairline a few months back I couldn't help but continue to keep tabs on it. It's one of the marvelous gems in life that you never notice until someone else points it out.
There is something a little funny about Mr. Foxx in these pictures. The boy just don't look right.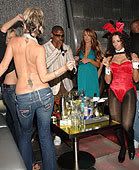 CONTACT INFORMATION
Use don't abuse (ie. adding me to your site's mailing list). And for the love of God please stop sending mp3 files of your music. I am not Clive Davis and to be frank I probably don't want to hear the shit anyway. You should also know that I take my slow, precious time responding to email. And sometimes I don't respond at all. Fresh.crunkjuice@gmail.com
Fresh@myspace.com
LEAVE SOME $$$ ON THE NIGHT STAND
GET POSTS IN YOUR INBOX
Free Image and Video Hosting

RECENT ENTRIES