Foxy Sentenced To Three Years of Probation
Foxy Brown was sentenced on Tuesday to three years probation and anger management classes for assaulting two nail salon stylists over a $20 manicure. How gangsta! Somebody please give this bitch some Seasame Street cred.


During her hearing, the 28-year-old singer asked that the guilty plea she entered in August be withdrawn. "I feel I am innocent. I feel I was coerced. I want to take back my guilty plea," she said. But the request was denied by Manhattan Criminal Court Judge Melissa Jackson.

Brown, whose real name is Inga Marchand, must submit a sample of her DNA and undergo periodic drug testing, and was ordered to stay away from the manicurists for the next five years. She had been facing up to a year in jail if she failed to show up to court Tuesday. On Monday, the judge was angered when Brown failed to appear, claiming she was recovering from a tooth extraction. . .

"This was self defense. This was a scuffle over payment of a $20 manicure and she panicked," said Rothman, one of several lawyers to represent the singer. "She had bad advice two months ago" when she pleaded guilty. His request was also denied.

Outside court, Brown said that she would still beat the charges.

"I'm a fighter," she said." I have an impressible spirit and an abiding faith in God. I believe that I will walk free." (

source

)


Check out a couple of pictures of Noxema Jackson leaving court under the cut.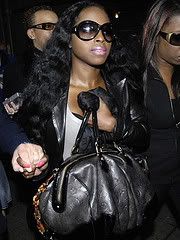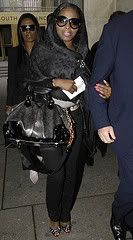 Oh Inga, you can be so extra sometimes.
CONTACT INFORMATION
Use don't abuse (ie. adding me to your site's mailing list). And for the love of God please stop sending mp3 files of your music. I am not Clive Davis and to be frank I probably don't want to hear the shit anyway. You should also know that I take my slow, precious time responding to email. And sometimes I don't respond at all. Fresh.crunkjuice@gmail.com
Fresh@myspace.com
LEAVE SOME $$$ ON THE NIGHT STAND
GET POSTS IN YOUR INBOX
Free Image and Video Hosting

RECENT ENTRIES