Viva Glam VI Dinner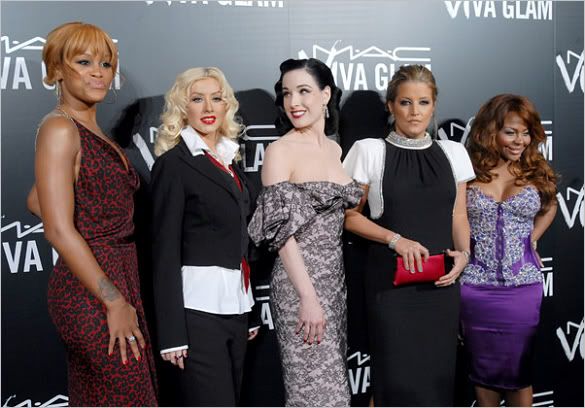 You good Lisa Marie?
Funny, I've done an Eve post for three days straight (not purposely mind you) and no crazy fan has showed up in the comments section saying "Yes! Please post more of our Queen." But then again does she still have fans? I'm just saying.
I absolutely love Lil' Kim's new hair color. Jury is still out on the face, but the rest of the package looks nice. And is Russell not sporting any Phat Farm for once in his life? Shut up!


Kelis; Lil' Kim; Lisa Marie Presley & Christina Aguilera; Dita von Teese and Eve; Russell Simmons; Eve
CONTACT INFORMATION
Use don't abuse (ie. adding me to your site's mailing list). And for the love of God please stop sending mp3 files of your music. I am not Clive Davis and to be frank I probably don't want to hear the shit anyway. You should also know that I take my slow, precious time responding to email. And sometimes I don't respond at all. Fresh.crunkjuice@gmail.com
Fresh@myspace.com
LEAVE SOME $$$ ON THE NIGHT STAND
GET POSTS IN YOUR INBOX
Free Image and Video Hosting

RECENT ENTRIES