08.29.2006 Music Notes


Rumor Control: Is Mary J. Blige Trying To Sabotage LeToya?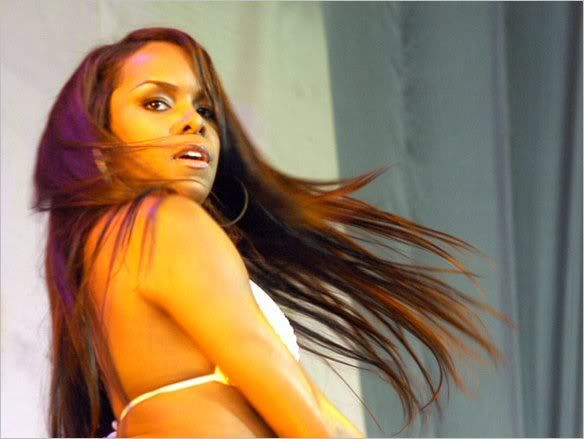 The LeToya rumors just keep on rolling. The latest buzz around the internet is that Mary J. Blige is trying to ruin her budding career. Hilarious I know.



But if LeToya wants to wrest the crown from the reigning monarch, she'll need a better display than she presented as Blige's opener. Singing a small handful of tunes with only a taped backing, and playing in front of a monstrous white sheet (which hid Blige's already assembled stage setup), LeToya's overloud 20-minute opening set was both a sonic and a visual nightmare. While she displayed requisite pipes and lots of energy, it also seemed as though the Blige camp had set her up for failure. Yet another indication that Blige is in no way ready to give up the crown just yet.
(
source
)



False. I honestly don't think that MJB is trying to sabotage LeToya. It just doesn't make any sense to me. No disrespect to Ms. Luckett but they are in totally two different weight classes, so the threat factor is pretty much non-existant.

Fantasia Opens Up Shop



The "American Idol" winner has teamed up with Carolina Panthers safety Mike Minter to open a chain of beauty salons to fund a home to help single mothers.

The driving force behind the project is Minter's sister, Rosalind Beaty. Beaty said that she hopes to open franchises that will channel their profits to a faith-based, nonprofit residential home for single mothers.

The first shop is due to open this fall in Concord under the name Imaj Salon and Spa. (
source
)




CONTACT INFORMATION
Use don't abuse (ie. adding me to your site's mailing list). And for the love of God please stop sending mp3 files of your music. I am not Clive Davis and to be frank I probably don't want to hear the shit anyway. You should also know that I take my slow, precious time responding to email. And sometimes I don't respond at all. Fresh.crunkjuice@gmail.com
Fresh@myspace.com
LEAVE SOME $$$ ON THE NIGHT STAND
GET POSTS IN YOUR INBOX
Free Image and Video Hosting

RECENT ENTRIES