More Cushion For The Pushing!


Ozone magazine has this section in each issue called 'Groupie Confessions' where a new lady spills the beans about her, ahem, fun with different rappers every month. This chick could've easily qualified for her own column.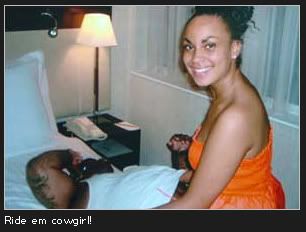 A student told yesterday how she had rumpy-plumpy with 20st Gnarls Barkley star Cee-Lo Green -- and giggled: "We had to man-oeuvre round his big belly." Emma Speare, 18, added: "His stomach was so massive it was like he was pregnant. [ It's not right, but is okay. - - Fresh]

"But I soon learned there were ways and means. He's a good lover, although let's put it this way -- he didn't get to go on top!" Emma met US singer Cee-Lo, 32, in a London nightclub as he promoted his record-breaking hit Crazy, the first single to go straight to No 1 based on digital downloads. After quaffing champagne together, he booked her and her sister Sarah into the posh Sanderson Hotel, where Emma sneaked into his £900-a-night suite.

Emma, from Liverpool, said: "We just talked all night. There was a bit of messing around but no sex. I was just taken in by his great personality and his aura." (
continue
)


Now I could've sworn Cee-Lo was married. I guess they have an open marriage. Yeah, either that or he is just fucking around on his wife. I love 'Lo and all but I don't see how this girl did it. He looks like a chubby dwarf.
CONTACT INFORMATION
Use don't abuse (ie. adding me to your site's mailing list). And for the love of God please stop sending mp3 files of your music. I am not Clive Davis and to be frank I probably don't want to hear the shit anyway. You should also know that I take my slow, precious time responding to email. And sometimes I don't respond at all. Fresh.crunkjuice@gmail.com
Fresh@myspace.com
LEAVE SOME $$$ ON THE NIGHT STAND
GET POSTS IN YOUR INBOX
Free Image and Video Hosting

RECENT ENTRIES