Candids of Usher In Miami
I can honestly say I've never had even the slightest crush on Usher. He reminds me too much of an ex-boyfriend I had a few years ago. Yes, I have been to the darkside of dating a metrosexual and honey it just wasn't for me. There are some things I simply refuse to share and feminine hygiene products is one. I had to warn homeboy more than once about using my shit until one day I just couldn't take it any more. Just because its strong enough for a man doesn't mean you need to be trying to use it! Ugh, I could go on and on about his sorry ass but I'll save you the headache.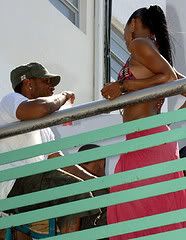 Ursh has been on my shit list ever since that incident with Sandra Rose went down. I'm patiently waiting for someone to slap that nigga or give him the clap.
CONTACT INFORMATION
Use don't abuse (ie. adding me to your site's mailing list). And for the love of God please stop sending mp3 files of your music. I am not Clive Davis and to be frank I probably don't want to hear the shit anyway. You should also know that I take my slow, precious time responding to email. And sometimes I don't respond at all. Fresh.crunkjuice@gmail.com
Fresh@myspace.com
LEAVE SOME $$$ ON THE NIGHT STAND
GET POSTS IN YOUR INBOX
Free Image and Video Hosting

RECENT ENTRIES