06.06.2006 Buzz Notes


One Brave Kitty


Eartha Kitt had a good excuse to postpone the opening of her monthlong gig at Cafe Carlyle from April until tonight: She had colon cancer. "I never expect anything to happen to me," the iconic singer, 79, told Page Six. "I'm the healthiest person in the world." But back in April, her hand was hurting from carpal tunnel syndrome, so she went to the doctor, who found she was also anemic. Further tests discovered the cancer. "They operated right away, and I'm fine," Kitt said. Sounding a lot like Katie Couric, who lost her husband to colon cancer, Eartha added, "I'd advise everyone to get a colonoscopy."

Meanwhile, she's happy to be working. "It makes me feel grateful that I'm still wanted. Anyway, what would I retire to?" And she's pleased that Beyonce has taken an interest in starring in a Kitt biopic, which could be based on her three volumes of memoirs. "My life has been so damned interesting," she admitted.
(
source
)

Ladies And Gentlemen Your New Bob Marley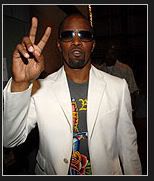 Jamie Foxx is set to play Bob Marley in a new biopic focusing on the reggae icon's early life.

Film-maker Rachid Bouchareb is set to direct the project which is the brainchild of the one love star's widow Rita. Bouchareb says, "I've always liked the story of what made Marley the man. "I want to look at him as a child through to a young man, and how he became interested in Africa." (
source
)


I'm not too sure about this one. I like Jamie and all but we all know how he can get. Don't be surprised if him and Kanye make some type of reggaeton collaboration with him chanting like Dylan.
CONTACT INFORMATION
Use don't abuse (ie. adding me to your site's mailing list). And for the love of God please stop sending mp3 files of your music. I am not Clive Davis and to be frank I probably don't want to hear the shit anyway. You should also know that I take my slow, precious time responding to email. And sometimes I don't respond at all. Fresh.crunkjuice@gmail.com
Fresh@myspace.com
LEAVE SOME $$$ ON THE NIGHT STAND
GET POSTS IN YOUR INBOX
Free Image and Video Hosting

RECENT ENTRIES