Terry Gives Advice To New Grads, Says Not To Pity The Fool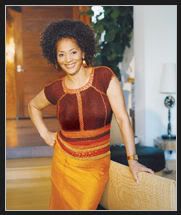 Famous for her no-nonsense writing, best-selling novelist and single mom Terry McMillan now plays guidance counselor in a book for freshly hatched high school grads. In It's OK if You're Clueless and 23 More Tips for the College Bound, tip No. 3 is: "Don't listen to your parents. If for any reason they don't like the path you've chosen, tough nuggies."

As for her fellow baby boomer parents, she states emphatically in a phone interview, "Back off!" The author who created the feisty black women characters in Waiting to Exhale based Clueless on a commencement speech she gave at her son Solomon's 2002 graduation from a Berkeley, Calif., Catholic high school . . .


McMillan's book, out next Tuesday (Viking, $12.95), joins the graduation gift book genre. Clueless is McMillan's first foray into non-fiction. She plans to follow it up with a memoir titled Don't Pity the Fool, which will address the "whole ordeal" of her very public and extremely messy divorce from her Jamaican-born husband, Jonathan Plummer. (
USA Today
)


And so Chapter 25 of 'Trapped In The Closet' begins. All I know is Mr. T better receive some type of credit.
CONTACT INFORMATION
Use don't abuse (ie. adding me to your site's mailing list). And for the love of God please stop sending mp3 files of your music. I am not Clive Davis and to be frank I probably don't want to hear the shit anyway. You should also know that I take my slow, precious time responding to email. And sometimes I don't respond at all. Fresh.crunkjuice@gmail.com
Fresh@myspace.com
LEAVE SOME $$$ ON THE NIGHT STAND
GET POSTS IN YOUR INBOX
Free Image and Video Hosting

RECENT ENTRIES