Look Out Nimpho Babby!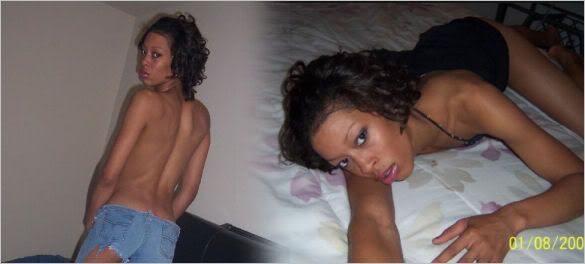 Like many great entertainers Dr. Dre is alleged to have about four or five illegitimate kids sprinkled here and there. This nubian goddess is his daughter Manaj. She is an upcoming rapper on
Wigga Wreckords
(I'm dead ass serious) and porn talent scout. Or at least that's what I made from her
Myspace profile.
Check it:


yo whats good its ya girl manaj in this bit** dr.dres 21 year old daughter i know yall feelin me a bit** is cute yes i know but whats goodd yall let ya girl know you can also visit www.wiggawreckords.com and hear some sh** fom yours truly and look out for the dvd/ mixtape of mine called ''LIVIN IN DADIES SHADOW'' thats gon be hot trust its gon be some sh** on there thats gon trip you out but wait and look out for it buy it you gon like it trust but anyway ya girl is in to everything, so yall get at me porn stars too got all types of things goin now im not doin porn hahaha nope but i have my own company and im in need of girls so yall holla we pay top dollar so get wit me on that male and female 18and up must look good girls must have pretty feet haha thats real


Kids, let that paragraph not only serve as your anti-drug but also an inspiration to stay in school.
CONTACT INFORMATION
Use don't abuse (ie. adding me to your site's mailing list). And for the love of God please stop sending mp3 files of your music. I am not Clive Davis and to be frank I probably don't want to hear the shit anyway. You should also know that I take my slow, precious time responding to email. And sometimes I don't respond at all. Fresh.crunkjuice@gmail.com
Fresh@myspace.com
LEAVE SOME $$$ ON THE NIGHT STAND
GET POSTS IN YOUR INBOX
Free Image and Video Hosting

RECENT ENTRIES