Afternoon Buzz Quickie


Omaroacha Talks About Her New Titties, TomKat, And Everything In Between
The ubiquitous Omarosa Manigault Stallworth told BV Buzz that while she's not ready to tender her crown as the Queen of Reality Television, there is one title she just conceded. "I have officially relinquished my title as the president of the Itty Bitty Titty Committee," she boasted over dinner at Clyde's of Gallery Place in Washington, D.C.

Wearing a low-cut red and yellow gown by NuMe designer Victoria Shaffer, Omarosa proudly showed off her new bodacious bosom. "For the first time in my life, I have cleavage," she said smiling, before admonishing: "Stop looking at my cleavage!" After my apology, she added that this was the first time she had cleavage that she didn't have to manipulate herself before leaving the house."Cleavage that is not constructed by a Victoria's Secret pushup bra, silicone cutlet inserts or taping my boobs together. I'm so happy to have natural cleavage," she said.

Her transformation from "a negative A-cup" to a "full voluptuous C-cup" was documented for television and will appear on a forthcoming episode of the Discovery Health series 'Plastic Surgery: Before & After.' Omarosa's mother, Theresa Manigault, is also featured on the series. "I treated my mother to a total makeover. The makeover of her dreams," Omarosa added. (
AOL BlackVoices
)
Coming to a King magazine swimsuit edition soon. . . I hope not.
Drama, Drama, and More Drama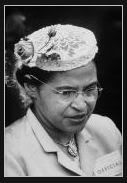 Now, this is some crazy s**t! I'm getting word that the esteemed members of the Parks family are on a crusade (led by her nephew) to have Proof's body removed from Detroit's Woodlawn Cemetery Chapel where she is buried because its presence is "disrespectful to her memory." "I don't see the appropriateness of someone like this young rapper being buried with Rosa Parks," William McCauley told freep.com. "She was a person of nonviolence and obviously this young rapper had a different creed when it comes to resolving issues." He never explicitly said he wanted Proof removed, but that's what's in circulation with the rumors. I can't call it, but I'm certainly not in a position to judge. When I go, he's not moving me - I'll haunt him for real! (
AHH Rumor
s

)




Do I really need to say anything about that one?


CONTACT INFORMATION
Use don't abuse (ie. adding me to your site's mailing list). And for the love of God please stop sending mp3 files of your music. I am not Clive Davis and to be frank I probably don't want to hear the shit anyway. You should also know that I take my slow, precious time responding to email. And sometimes I don't respond at all. Fresh.crunkjuice@gmail.com
Fresh@myspace.com
LEAVE SOME $$$ ON THE NIGHT STAND
GET POSTS IN YOUR INBOX
Free Image and Video Hosting

RECENT ENTRIES