I'm With Remy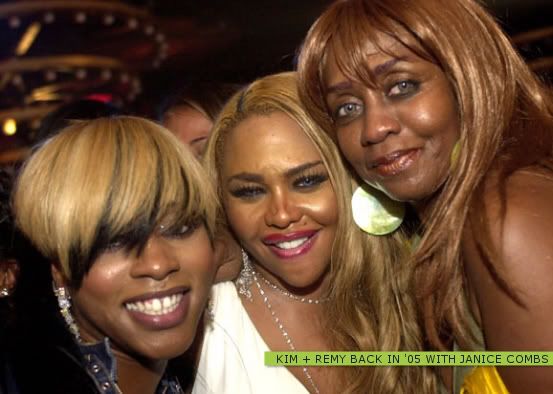 Boy that picture . . . no words.
Cognac Jack hit up Kay Slay's radio show to speak about Lil' Kim's
recent rant
and diss track. I am going to have to side with Remy on this one. I thought I was the only one who gave Kim's "formulated ice grill" the big side-eye. Kim better back off, we already know Remy doesn't have any problems shooting a bitch in the stomach.
That little boy better live me alone," Remy said referring to Lil Kim. " She was saying 'I'm going at [Remy] hard, she go hard to me so I go hard back'. I feel like if that's going at me hard, like seriously, I'm just gonna chill out. That's crazy to me."

"What did she say? 'Put it on my lipstick, I was to be busy being conceited'. Like, how could you be conceited, you don't even like your own face," Remy continued. " What are you talking about? Are you serious? How was I supposed to take that offensive."

"I don't believe you," stressed Remy. " You don't like your nose, you don't like your cheek , you don't like your chin, you don't like your skin color, you don't like your tits , you don't like your stomach, you don't like your teeth. What are you talking about?"



"At the end of the day it's funny to me. When I really feel like it's amusing, when I feel like someone's getting at me, then I'll drag them all over the first spot that I see them of course," Remy continu ed. " But in the meantime, in between time…like this chic has more ghostwriters than Foxy [Brown]. I just feel like right now she's reaching,"

"You dyked your whole bid away. You didn't write no records. I don't see the point of the whole thing. She wasn't saying anything to me," said Remy. " This is probably the most press she's got in forever because everyone wants to know what im going to say." [Source]
Related article:

Judge Keeps All Charges Against Remy Ma





CONTACT INFORMATION
Use don't abuse (ie. adding me to your site's mailing list). And for the love of God please stop sending mp3 files of your music. I am not Clive Davis and to be frank I probably don't want to hear the shit anyway. You should also know that I take my slow, precious time responding to email. And sometimes I don't respond at all. Fresh.crunkjuice@gmail.com
Fresh@myspace.com
LEAVE SOME $$$ ON THE NIGHT STAND
GET POSTS IN YOUR INBOX
Free Image and Video Hosting

RECENT ENTRIES