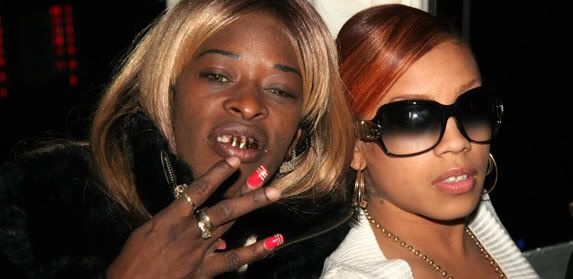 Who remembers this picture? Ha!
Break out the Capri Suns! Keyshia Cole has signed on for
another season
of her BET reality show, "Keyshia Cole: The Way It Is." The second installment will begin airing this Fall with episodes showing the making of her sophomore album
Just Like You,
tentatively due on Sept. 18.
Cole and her manager Manny Halley are serving as executive producers for the second season of "The Way It Is," which will also focus on Cole's mother's, Frankie [1], recent release from prison and feature more of Cole's sister, Neffe. Yes! That girl's drunken antics put Amy Winehouse's scrawny ass to shame.
And if we are lucky maybe Young Jeezy will stop by. It's only a matter of time before a sex tape showcasing their raunchy romps in the bedroom leaks out.
Yeaaaaah.
[1] I hope that Keyshia copped her Mama some porcelain veneers after she was released from the clink. I'm just saying.