Spice 1 [1]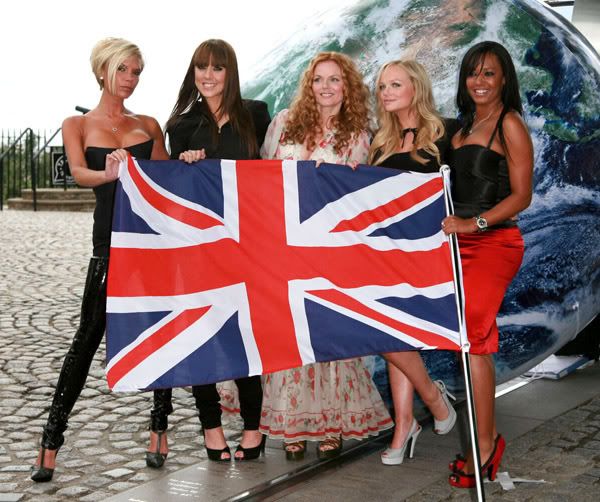 Have you heard the fantastic news? The Spice Girls are getting
back together.
*slow . . . hand claps*
Break out your platform Sketchers.



All five Spices joined together for Thursday's unsurprising announcment at London's O2 Arena. The reunion, rumored—and downplayed—for weeks, was assumed to be a fait accompli once Simon Fuller, the Svengali who first unleashed the group on an unsuspecting public more than a decade ago, announced the quintet would be holding a press conference to "discuss future plans" several days ago.

"We are girl power," said Halliwell, 34. "It doesn't matter how old you are, 5 or 65."

QUESTION OF THE DAY: WHAT OTHER MUSIC GROUPS SHOULD REUNITE?

[1] I couldn't help myself. It's not often that I get to make references to
West Coast rappers
from the 90's.
CONTACT INFORMATION
Use don't abuse (ie. adding me to your site's mailing list). And for the love of God please stop sending mp3 files of your music. I am not Clive Davis and to be frank I probably don't want to hear the shit anyway. You should also know that I take my slow, precious time responding to email. And sometimes I don't respond at all. Fresh.crunkjuice@gmail.com
Fresh@myspace.com
LEAVE SOME $$$ ON THE NIGHT STAND
GET POSTS IN YOUR INBOX
Free Image and Video Hosting

RECENT ENTRIES