Paula Abdul Falls On Her Face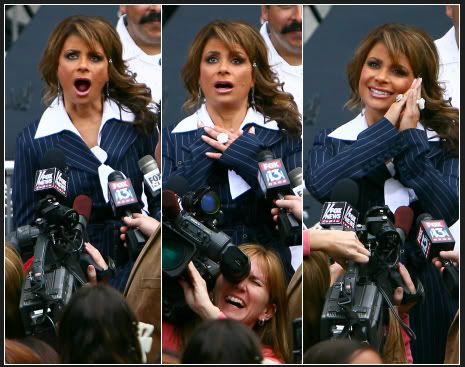 Paula Abdul
broke her nose
over the weekend after she fell while trying to avoid stepping on her chihuahua, Tulip.
Ha ha!
Abdul told ExtraTV that she tore cartilage in her nose and fractured her toe. "I took a nasty fall ... trying not to hurt my dog. I bruised myself on my arm ... my chest, my waist all the way down to my hip. All from my little chubby Tulip."
Whatever Paula. I trip over my imaginary rottweiler King after a couple of rounds of Grey Goose and cranberry juice every Saturday and I have managed not to break one single bone. What you been drinking on? Straight up now tell me the truth!
This is all Arsenio Hall's fault. We gotta falsely accuse a black man at least once a month, right? I'm just trying to meet my quota.
Labels: You Need More People
CONTACT INFORMATION
Use don't abuse (ie. adding me to your site's mailing list). And for the love of God please stop sending mp3 files of your music. I am not Clive Davis and to be frank I probably don't want to hear the shit anyway. You should also know that I take my slow, precious time responding to email. And sometimes I don't respond at all. Fresh.crunkjuice@gmail.com
Fresh@myspace.com
LEAVE SOME $$$ ON THE NIGHT STAND
GET POSTS IN YOUR INBOX
Free Image and Video Hosting

RECENT ENTRIES