Slickback Denies Relationship With Nay Nay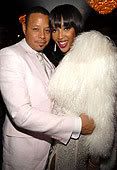 Slickback Ivanhoe has
denied
that he and Naomi Campbell are dating. In an interview with
People
he revealed that he is trying to work things out with his estranged wife, Lori.
"I'm still trying to get my wife back," the tang pioneer says. I'm always gonna, you know, till she puts the last nail that coffin, and I'm hoping she don't. [She] filed for divorce but I'm still trying to campaign. My three kids are campaigning for me, too. They'll make sure that anybody who comes sniffing around
gets a bloody nose
."
Aubrey, Heavenly and Hunter will knock a bitch out in the name of family. I knew there was a reason why I liked those kids so much.


According to Daniel Poon the reason why the pair were suddenly linked was because they share the same mentor, Quincy Jones. He is teaching the cell phone hurling diva about the importance of "maintaining one's majestic composure."


Y'ain't know? Slickie has a wealth of knowledge to share. Like tips on keeping her man sass-see-fied, how to use what she got to get what she wants, the best spots in town for mani's, the proper way to hip roll, etc, etc. I think he should release an instructional dvd and book but I don't think his goon squad would let him live it down.
CONTACT INFORMATION
Use don't abuse (ie. adding me to your site's mailing list). And for the love of God please stop sending mp3 files of your music. I am not Clive Davis and to be frank I probably don't want to hear the shit anyway. You should also know that I take my slow, precious time responding to email. And sometimes I don't respond at all. Fresh.crunkjuice@gmail.com
Fresh@myspace.com
LEAVE SOME $$$ ON THE NIGHT STAND
GET POSTS IN YOUR INBOX
Free Image and Video Hosting

RECENT ENTRIES