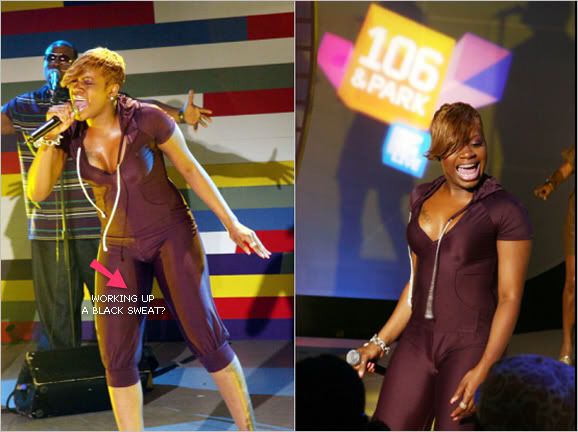 Fantasia is hot. Hot as in frying-fish-at-high-noon-in-the-dead-of-summer-with-a-dusty-box-fan-blowing-hot-ass-air.
Given the fact that she has had issues with her controlling her sweaty puss on stage in the past one would think that she would avoid clothing that gives the appearance of such. But no! Not our Tasia Mae. She takes to tacky Fashion Bug clearance apparel like a fish to water. Now I could be wrong and it might just be the sheen of the material of her "outfit" or perhaps a shadow but she should really consider firing her stylist.
Droopy snatch dripping with sweat is not the movement.
CONTACT INFORMATION
Use don't abuse (ie. adding me to your site's mailing list). And for the love of God please stop sending mp3 files of your music. I am not Clive Davis and to be frank I probably don't want to hear the shit anyway. You should also know that I take my slow, precious time responding to email. And sometimes I don't respond at all. Fresh.crunkjuice@gmail.com
Fresh@myspace.com
LEAVE SOME $$$ ON THE NIGHT STAND
GET POSTS IN YOUR INBOX
Free Image and Video Hosting

RECENT ENTRIES