Mr. Bigg Is Heading To The Slammer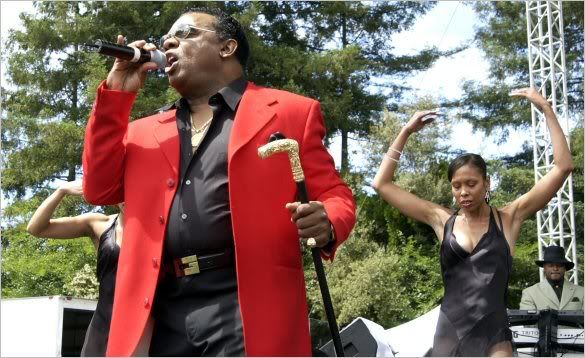 Mr. Bigg is going to the big house (yeah yeah, you saw that one coming). Yesterday he was sentenced to three years in federal prison for tax evasion. I got the Sunbeam iron heating up right now to press up some fresh Free Mr. Bigg shirts. Your fans are going to hold you down and rep you in the streets while you gone Ron. The hood got you my nigga.

Yeah right.


Soul legend Ronald Isley, who sang such hits as "Twist and Shout" and "This Old Heart of Mine" as a member of the Isley Brothers, was sentenced on Friday to three years in federal prison for tax evasion. Isley, 65, was also ordered to pay about $3.1 million to the Internal Revenue Service, having engaged in "pervasive, long-term, pathological" evasion of federal taxes, according to U.S. District Court Judge Dean Pregerson.

The sentences were handed down after Isley was convicted last October of five counts of tax evasion and one count of willful failure to file a tax return. During the three-week trial, prosecutors said Isley failed to make any voluntary payments to the IRS between 1976 and 1996.

They also said he spent millions of dollars of unreported cash payments for performances on a yacht and two homes, and cashed royalty checks belonging to his late brother, O'Kelly, who died of a heart attack in 1986. (continue)



Look on the bright side of the spectrum. At the 2009 BET Awards he can come out in an orange jumpsuit and bring sexy back.
CONTACT INFORMATION
Use don't abuse (ie. adding me to your site's mailing list). And for the love of God please stop sending mp3 files of your music. I am not Clive Davis and to be frank I probably don't want to hear the shit anyway. You should also know that I take my slow, precious time responding to email. And sometimes I don't respond at all. Fresh.crunkjuice@gmail.com
Fresh@myspace.com
LEAVE SOME $$$ ON THE NIGHT STAND
GET POSTS IN YOUR INBOX
Free Image and Video Hosting

RECENT ENTRIES