Superhead Strikes Again?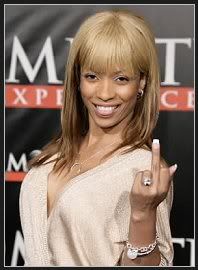 Are Whitney Houston and Bobby Brown going through yet another rough patch? Folks concluded as much after Brown, during a weekend concert at L.A.'s Greek Theater, reportedly announced that he'd split from his wife and is "looking for a new tenderoni. Anybody want to come home with me tonight?"
Despite the testimony of multiple witnesses, Brown's lawyer, Phaedra Parks, insisted last night that Brown and Houston happily celebrated their 14th wedding anniversary yesterday "with a quiet dinner."The 37-year-old crooner previously denied a Lowdown report that he and the 43-year-old R&B diva, stars of last summer's Bravo reality show "Being Bobby Brown," were on the rocks.

But I hear Brown was hanging backstage with Karrine Steffans -- who wrote about her dangerous liaisons with him in her sexcapade memoir, "Confessions of a Video Vixen" -- and left with her after the show at the wheel of her Mercedes-Benz E350. I also hear that in recent weeks, Brown has been sleeping at various L.A. hotels while Houston has been living at home. Parks denied Brown departed with Steffans and said he's stayed in hotels only to rehearse. Houston's spokeswoman, Nancy Seltzer, said she has "no comment on the state of their union."

(
source
- - Thanks Dex!)
I'm crossing my fingers that Karrine and Bobby haven't linked up again. If you read her book you probably already know about their little sex sessions. I wouldn't trust her ass. She's probably trying to find material for a new book. Here's a picture of Bobby and Bobby Jr snapped last week. Think about the kids Bobby! Oh wait, Whitney isn't his mother. Well, do it for Nimpho Babby!

CONTACT INFORMATION
Use don't abuse (ie. adding me to your site's mailing list). And for the love of God please stop sending mp3 files of your music. I am not Clive Davis and to be frank I probably don't want to hear the shit anyway. You should also know that I take my slow, precious time responding to email. And sometimes I don't respond at all. Fresh.crunkjuice@gmail.com
Fresh@myspace.com
LEAVE SOME $$$ ON THE NIGHT STAND
GET POSTS IN YOUR INBOX
Free Image and Video Hosting

RECENT ENTRIES